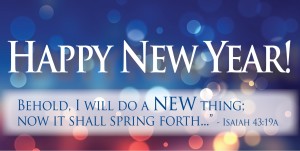 "The heart is deceitful above all things, and desperately wicked: who can know it? I the Lord search the heart, I try the reins, even to give every man according to his ways, and according to the fruit of his doings." – Jeremiah 17:9-10
"For I know that in me (that is, in my flesh,) dwelleth no good thing: for to will is present with me; but how to perform that which is good I find not." – Romans 7:18
"And be not conformed to this world: but be ye transformed by the renewing of your mind, that ye may prove what is that good, and acceptable, and perfect, will of God." – Romans 12:2
---
There's a whole lot of crazy in my head. I don't know about you, but I only need to be left alone with my own thoughts for a few moments before I realize what a hopeless mess I would be outside of the grace of God. And nothing brings me face to face with my own craziness like considering resolutions for the New Year.
Even if you understand the pointlessness of New Year's resolutions, you still can't help but contemplate them. Contemplating just how many resolutions it would actually take to tie your life up in a neat little bow is overwhelming, and realizing just how unattainable most of those resolutions are is disheartening. But digging deep within your heart to find out why you have the exact same list of resolutions year after year is nothing short of frightening.
In Joshua 7, Joshua himself had to dig deep to unearth the truth. As Moses' successor, he had been on a honeymoon with the Children of Israel. God had made some amazing promises (Joshua 1), and it seemed like the milk and honey was already starting to flow. They had crossed the Jordan and brought down the walls of Jericho in spectacular fashion (Joshua 6). But Joshua was blind to the rebellion that had taken root in his camp. It was buried deep in the ground under Achan's tent. And although the City of Ai was small and defenseless, Israel was about to go to battle without her not-so-secret weapon, the protective hand of God, and the results would be frightening.
The Israelites were soundly defeated by the underdog Ai, 36 Israelite soldiers died, and Joshua immediately knew that something was wrong (Joshua 7:2-5). This was not what God had promised, but God reminded Joshua that His promise included a condition of obedience (Verses 10-12). So who was not obeying? An agonizing investigation followed, and the trail inevitably led to Achan. Once confronted, Achan fessed up quickly to the fancy robe, pile of silver, and chunk of gold that he had taken from Jericho (directly disobeying God's command), but the damage was done (Verses 19-21). Soldiers had lost their lives because of Achan, and Israel needed to learn a hard lesson about buried sin. The valley where Achan and his family died would be named Achor (the Hebrew word for "trouble"), a nod to the price of a stolen robe and a rebellious heart (Verses 25-26).
Just as Achan's buried treasure turned conquest into catastrophe, whatever you feed in secret will secretly control you (Numbers 32:23, Proverbs 28:13, Isaiah 29:15, John 3:19-20). Whatever regret or fear, whatever burden or pain, whatever habit or weakness you keep caged in the deep recesses of your heart is actually running and ruining your heart. We think we can keep those things hidden away, but in fact, their cage becomes the control room of our lives, where every thought, word, and deed is filtered through the very worst of ourselves.
Our resolutions address things that seem simple on the surface, but our obvious flaws are fueled by the things that thrive in the dark corners of our hearts – rebellion, pride, fear, worry, anger, and bitterness –  and those are the things that kill you from the inside out (Proverbs 6:16-19). Those are the things that rob you of God's best blessings and saddle you with the same shallow and sad New Year's resolutions every January.
This year, make just one resolution – to dig deeper. Dig deeper into your own heart. Let God show you the things that you're feeding in secret that are secretly destroying you (Psalm 19:12, 69:5, 90:8, Romans 13:12, Ephesians 5:11). Dig deeper into His Word. Let Him transform you by renewing your mind (Jeremiah 16:17, Romans 12:2, II Timothy 3:16-17, Hebrews 4:12, James 1:22). And dig deeper into His will for your life. Give Him your full attention and your full obedience, and He will give you the direction that you've struggled to find on your own for so long (Psalm 32:8, Proverbs 3:5-6, Isaiah 30:21, 43:19, Ephesians 5:15-17, Hebrews 10:35-36). Happy New Year. May this year find you captivated by His grace, confident in His mercy, and closer to God than ever before.
---
YOUR PRESCRIPTION

Resolve to spend more time with God in the coming year – in prayer, in His Word, and in service. Instead of trying to change your life on the surface, let Him change you from the inside out.