"But a certain Samaritan, as he journeyed, came where he was: and when he saw him, he had compassion on him, And went to him, and bound up his wounds, pouring in oil and wine, and set him on his own beast, and brought him to an inn, and took care of him." – Luke 10:33-34
"Rejoice with them that do rejoice, and weep with them that weep." – Romans 12:15
"The Spirit of the Lord God is upon me; because the Lord hath anointed me to preach good tidings unto the meek; he hath sent me to bind up the brokenhearted, to proclaim liberty to the captives, and the opening of the prison to them that are bound; To proclaim the acceptable year of the Lord, and the day of vengeance of our God; to comfort all that mourn; To appoint unto them that mourn in Zion, to give unto them beauty for ashes, the oil of joy for mourning, the garment of praise for the spirit of heaviness; that they might be called trees of righteousness, the planting of the Lord, that he might be glorified." – Isaiah 61:1-3
Scripture Reading: Luke 10:25-37
---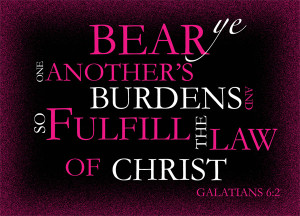 It never hurts to walk a mile in someone else's shoes. In fact, it can do you a world of good. In the parable of the Good Samaritan in Luke 10, Jesus illustrates the concept of loving your neighbor as yourself, and it strikes me that it involves more than just talk. It involves deliberate action, deliberate involvement, and deliberate steps in their direction.
You know the story. A man is left on the side of the road for dead. Robbed and beaten, this poor soul is in desperate need of help. Ironically, two religious icons of the day – a priest and a Levite – each stumble across the victim in turn. Both move to the other side of the road, avoiding any involvement with the man's plight and continuing on their own self-centered way.
The hero of our story is someone that Jesus' audience would have considered a "dog". Samaritans were hated by Jews, but this man put his Jewish counterparts to shame. The Samaritan traveler not only has compassion – he takes action. With no regard for his own schedule or his own obligations, this man completely puts himself in the shoes of the wounded man. He stops in his tracks and redirects – not just his thoughts and prayers – but his time, money, and his own mode of transportation ("set him on his own beast") in order to meet the man's needs. And the commitment is long-term, as he promises to return again to pay any additional expenses.
Let's think for a minute about what the Samaritan didn't do. He didn't hesitate. He didn't count the cost (Proverbs 3:27). He didn't stop to evaluate whether or not this man deserved his help (Matthew 7:1-3). He didn't wait for someone else to take the lead or to put a stamp of approval on his actions. He saw. He felt. And he moved.
When we pray for God to meet the needs of others, do we consider that He may want to meet those needs through us? When Jesus felt compassion (Matthew 9:36, 14:14, Mark 1:41), it always moved Him to take action. When the Lord moves your heart with compassion, know that He is trying to get you to move, too (Psalm 143:10, Matthew 25:34-40, Galatians 6:10, Ephesians 2:10, James 1:27).
We can judge the priest and the Levite all day long, but how often do you and I keep a safe distance from hurting people? I know I have failed on more than one occasion to get my hands dirty, sacrifice my time, and walk a mile in someone else's painful shoes. There have been times that I didn't know what to say to someone, so I avoided having to face them at all. Other times, I was too selfish to give up my own time, my own comfort, or I was too lazy to make a commitment. Worse still, there were times when I judged someone else to be less than deserving of my help for reasons that would probably never hold up with God. After all, He has never based His dealings with me on what I deserve (Romans 5:8, Philippians 2:12-13, Titus 3:5), and I'd be in sorry shape if He did.
Don't just pray for God to move. Pray for Him to move you. When you pray for the hurting, ask God to use you to help them. Don't expect that the Good Samaritan will be one or two people behind you on the road. Make a conscious effort to be ready, willing, and available for God to work through you (Romans 12:15, Galatians 6:2, I John 5:1-2).
Hurting people are left lying on the roadside of life every day. Instead of weaving our way around them, let's stop, pick them up, and walk a mile in their shoes. You just might realize how blessed you are, once you take the time to stop and be a blessing to someone else (Psalm 89:1, Jeremiah 9:24).
---
YOUR PRESCRIPTION
Take the time to care for the hurting people in your path. Pray for them, but also be the sympathetic ear, the helping hands, and the generous heart that is the answer to their prayers. God will bless you for it.