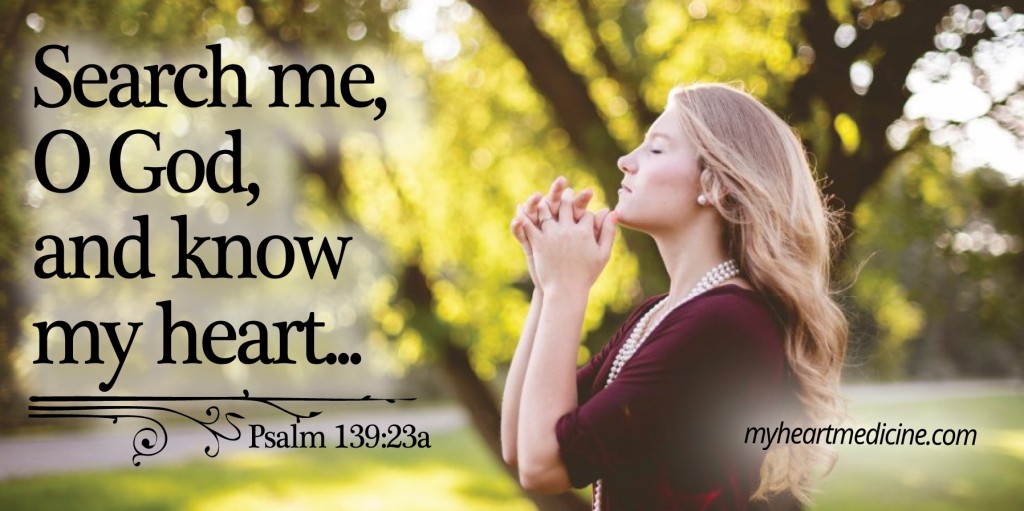 "And David's anger was greatly kindled against the man; and he said to Nathan, As the Lord liveth, the man that hath done this thing shall surely die: And he shall restore the lamb fourfold, because he did this thing, and because he had no pity. And Nathan said to David, Thou art the man." – II Samuel 12:5-7a
"Every way of a man is right in his own eyes: but the Lord pondereth the hearts." – Proverbs 21:2
"Search me, O God, and know my heart: try me, and know my thoughts: And see if there be any wicked way in me, and lead me in the way everlasting." – Psalm 139:23-24
"And why beholdest thou the mote that is in thy brother's eye, but considerest not the beam that is in thine own eye? Or how wilt thou say to thy brother, Let me pull out the mote out of thine eye; and, behold, a beam is in thine own eye? Thou hypocrite, first cast out the beam out of thine own eye; and then shalt thou see clearly to cast out the mote out of thy brother's eye." – Matthew 7:3-5
Scripture Reading: II Samuel 12:1-20
---
Just when I think I've started to get the worst of me under control, it all comes bubbling to the surface again in spectacular fashion. I'm pushing 50, and for all that time has taken away, it still has not diminished my ability to screw up, to say the wrong thing, to overstep my bounds, or to set myself up for failure.
By God's grace, I'm not what I once was, but I still struggle to admit everything that I actually struggle with. And if anything, I have grown my capacity for self-deception, because somehow, the worst of me still always takes me by surprise.
In II Samuel 12, David is about to come face to face with the worst of himself. He has pulled the ultimate self-deception. Uriah is long dead, and David's order to murder Uriah on the battlefield is a secret that died with him (II Samuel 11:14-17). Bathsheba is now David's wife, and she's given birth to the son that was conceived while Uriah was away fighting for king and country. But what happens at the palace stays at the palace, and David has moved on as if Uriah never existed (II Samuel 11:27). But the last verse of II Samuel 11 tells us that although David has moved on, God is decidedly "displeased", and David's lack of remorse is bound to catch up with him.
God sends the prophet Nathan to David, and Nathan begins to tell a story (II Samuel 12:1-4). Nathan's tale about a rich man who heartlessly steals the beloved lamb of a poor man is completely transparent. Still, David is in such denial that he actually believes the rich man to be one of his subjects, and he is prepared to dole out justice and avenge the poor man's loss (Verses 5-6). But David's righteous indignation will soon turn on David himself, as Nathan speaks the awful, long-buried truth (Verse 7), "Thou art the man."
How did it come to this? David was the man after God's own heart, the giant slayer, the sweet psalmist of Israel. Just a few chapter earlier (II Samuel 9), he had reached out to Mephibosheth, the long-lost son of Jonathan, but also the grandson of Saul. He had been kind and gracious, giving the lame and lowly Mephibosheth land, servants, and a permanent seat at the king's table. It was a far different David than the David of II Samuel 11, who got Uriah drunk in the hopes of staging a cover for Bathsheba's ill-conceived pregnancy.
How could the cheating, lying David and the honorable, God-honoring David coexist? Worse still, how could the cheating, lying David be so quick to condemn another?
On any given day, in any given Christian, the flesh and the Holy Spirit are battling for control (Romans 7:15, Colossians 3:9-10, Galatians 5:16, 6:7-8, Ephesians 2:2, 5:1-2, 8-10, II Timothy 2:3-4). The flesh wants to downplay our sin. The flesh looks for easy outs, scapegoats, and bigger sinners and bigger sins that make us feel better about ourselves. But God does not rank sins or sinners – all are equally condemned, and praise God, all are equally redeemed by the blood of Christ (Romans 3:23, 6:23, 8:1).
So who's the man? Sadly, all too often, I am the man – the self-deceiving, self-righteous finger-pointer who doesn't realize that he's actually the star character in the prophet's cautionary tale. Are you the man, too? Maybe you've been pointing the finger of denial in someone else's direction. Maybe you've found yourself blaming someone else for the sin that has taken root in your own heart.
My advice to us both – stop hiding behind someone else's sin. Wake up to the truth that God has been waiting for you to confess. Be the man. Own your sin, and then give it to God (Psalm 119:80, Jeremiah 17:9, Ezekiel 36:26-27, Hebrews 4:12, I John 1:9). There is forgiveness. There is a right way to move on. And there is redemption in being real.
---
YOUR PRESCRIPTION
Are you "the man"? Ask God to show you any sin that you might be harboring in your heart. Stop looking for others to blame, and own the sins that belong to you. Confession really is good for the soul.