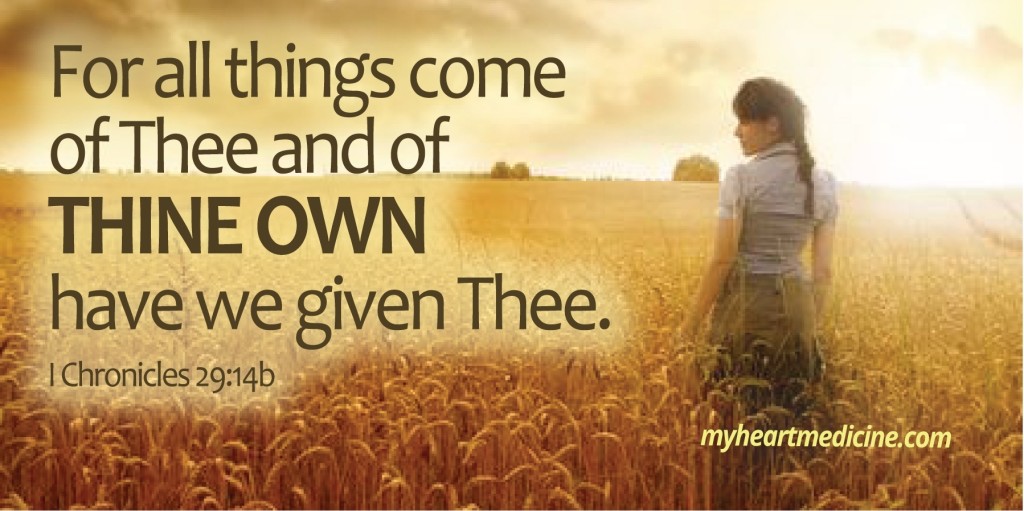 "…For all things come of thee, and of thine own have we given thee." – I Chronicles 29:14b
"Give, and it shall be given unto you; good measure, pressed down, and shaken together, and running over, shall men give into your bosom. For with the same measure that ye mete withal it shall be measured to you again." – Luke 6:38
"Every man according as he purposeth in his heart, so let him give; not grudgingly, or of necessity: for God loveth a cheerful giver." – II Corinthians 9:7
Scripture Reading: Luke 8:1-3, Acts 9:36-42, Acts 16:9-15
---
I grew up in a humble home, and as the oldest of four kids, I think my station in life taught me a few things. For instance, clothing, toys, furniture, etc., can all be recycled, re-purposed, and reused – over and over again. Use. Repair. Repeat. That's pretty much the mantra in a family with four kids. Everything from yesterday's leftovers to plastic shopping bags has multiple applications and infinite possibilities.
God's kingdom isn't much different. God is totally into recycling, and He's an undisputed Master at repurposing. And a life of meaning, purpose, and substance is best found by re-purposing your God-given substance for God's higher purpose.
Let me give you a few examples of women in the Bible who took what God gave them, and gave it back to Him:
Joanna, Susanna, and Co.

– In Luke 8:1-3, we are introduced to a group of women who have been healed by Jesus and then joined Him on His travels. And the Bible makes it clear that these women had the critical role of providing for Jesus "of their substance". Joanna, in particular, was the wife of Chuza, who managed Herod's household. Joanna was a woman of means, who brought meaning to her own life by supporting the ministry of Jesus. She gave her wealth to sustain a Savior Who didn't even have a place to call home (Luke 9:58), and served as one of God's means of provision for His Son. Joanna was a woman who could have

been

served, but instead chose

to

serve. And by God's grace, she would be one of the women who first discovered the empty tomb (Luke 24:1-10). All the money in the world couldn't buy a more meaningful moment than that.
Dorcas

– In Acts 9:36-42, Peter travels to Joppa and raises a woman from the dead. But in this story, it's the

life

of Dorcas that stands out. Verse 36 tells us that Dorcas had a reputation for good works and giving – putting both her money and her skills to work for the Lord. When Peter arrives, he is greeted by weeping widows bearing coats – coats made by the very hands of their dear friend. It's a touching tribute to the tangible impact of Dorcas' ministry. This was a woman who saw the needs of others, loved like Jesus, and was much-loved in return. God gives this humble servant a resurrection story of her own, and a testimony that would bring even more souls to Christ (Verse 42).
Lydia

– In Acts 16:10, Paul has a vision of a Macedonian man who implores him to come to that region. But ironically, once he arrives in the Macedonian capital of Philippi, the women are the first responders to Paul's ministry (Verse 13). Paul meets Lydia – another woman of means, and in fact, a business owner – down by the riverside. She is saved and baptized, along with her entire household. She then puts that household to work for God, as the Philippian church gets its start right in Lydia's living room (Verses 14-15). Paul would later laud this church for its unrivaled faithfulness in supporting his ministry (Philippians 4:10-19).
Do you see the eternal impact that these humble women had? God recycled, redeemed, and restored their lives, and then re-purposed their substance for His glory. I want to be a woman of that kind of substance – not a woman who necessarily has a lot, but a woman who does a lot for the Lord with whatever she has.
Today, I challenge you to take stock of your substance – all of the resources God has given you (Deuteronomy 8:18, Proverbs 3:9, 27, I Samuel 2:7, Malachi 3:10, Matthew 6:21, II Corinthians 9:7-8, Hebrews 10:34, James 1:17). And don't just look at the obvious. God may want to use you and your stuff in creative ways that only a Creator could imagine (I know He's done that for me). The question is: Are you all in? A woman of true substance surrenders all the substance she has to the God Who gave it to her in the first place.
---
YOUR PRESCRIPTION
Ask God to show you new and exciting ways that you can use your substance for Him. He gave you what you have for a reason. You just have to find the meaning behind your means.